U.S. Marines Guard Secret Iraqi City with Very Hot Nuclear Radiation Levels . . . Other than FOX - No American Television News Reports
In a valley 18 miles south of Baghdad the U.S. Marines guard a secret underground city. It lies under the city of Al-Tuwaitha that belongs to Iraqi Atomic Energy Commission. Earlier investigators and U.S. military Secret Operations squads located the top secret underground facility. Reports are beginning to come in that International Atomic Energy Agency inspectors sent to Iraq had never been allowed to inspect the huge secret complex. Now the Marines guard it against enemy counter-attacks.
Reportedly, the complex has over 14 buildings that have very high levels of radiation. The radiation levels are so high that inspectors were shocked and dismayed. The inspectors also located caverns and storage facilities where many drums hold very dangerous "hot" water. The radiation levels are off the charts. It is unsafe for humans to be anywhere near this storage area.. Only three hours of exposure would cause uncontrolled vomiting.
I quote brief excerpt from the Pittsburg Tribune-Review which published this report earlier today:
* * * Last fall, they say, the Central Intelligence Agency prodded international inspectors to probe Al-Tuwaitha for weapons of mass destruction. The inspectors came away with nothing.

"They went through that site multiple times, but did they go underground? I never heard anything about that," said physicist David Albright, a former IAEA Action Team inspector in Iraq from 1992 to 1997. Officials at the IAEA could not be reached for comment.

* * * "The Marines should be particularly careful because of those high readings. Three hours at levels like that and people begin to vomit. That leads me to wonder, if the readings are accurate, whether radioactive material was deliberately left there to expose people to dangerous levels. "You couldn't do scientific work in levels like that. You would die."
I urge NewsPundit.net readers to read the complete report on the link above. It is a major breaking news report. It is very hot news.
Nuclear "Smoking Gun" Discovered
This morning FOX News was reporting the discovery. Nothing has been presented on the other major networks. When will CNN, ABC, CBS and NBC report this major breaking news story? Maybe later this week. Maybe next week. Maybe after Iraq has been under total American control for three months. Your guess is as good as mine.
The report as been on the news wires for over four hours now. That is more than enough time for the higher ups to make a decision about whether talking heads ought to deliver the news to audiences across the nation. Why are they sitting on the story?.
Perhaps the report is too "radioactive" for the other major news networks to go near?
Are they waiting to interview Hans Blix? Mr. Blix ?
Breaking News . . . Weapons Grade Plutonium Possibly Found
The report is in print on FOX News right now. It just went up about five minutes ago. Looks like the Iraqis fooled Mr. Blix and his team of inspectors.
More Breaking News:
Evening Standard reports "mass graves liter Iraq." A former high ranking Iraqi security officer's chilling testimony about Saddam.
News24 is reporting that U.S. Marines have found a possible mobile bio-weapons lab. From the description given it could not be anything else.
Straights Times reports U.S. Marines free 123 Iraqis from a hell hole.
Hitchens: "Saddam Hides Like a Rat in a Sewer"
The Mirror UK published this editorial today.
Breaking News on Bio-Weapons ... On April 14, 2003
CNN reports that 11 mobile bio-weapon labs have been found buried in the sand. They were near a location searched by U.N. Weapons Inspectors.
Posted by Douglas Oliver on April 10, 2003 at 8:37 AM
(Updated on April 10, 2003 at 4:06 AM)
(Last updated on April 17, 2003 at 3:40 AM)
Breaking: Yahoo Has Hundreds of Photos of U.S. and U.K. Troops Being Cheered by Iraqis
This was bound to happen. The Iraq War would not have happened otherwise.
You may click this Hot Link and explore Yahoo and view about 300 photos at your leisure. Look for the new "Iraq War" Slide Show link at the top and then try the "Humanitarian Aid" link on the page about half-way down.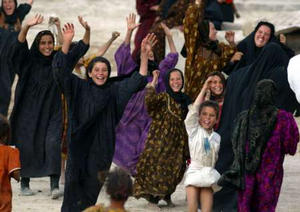 Truly amazing. Each picture is worth more than 10,000 words.
We tender our apologies to NewsPudit readers. Yahoo has changed the link and they have mixed up and changed the photographs repeatedly. The Slide Show link looks to be good today.
You Must See This ...
For a live video report go to this Sky News link and view video of Iraqi cheering American troops in Baghdad . There are many links to view on this site. You will see many happy Iraqis celebrating. Or view your favorite news source at your leisure. See the Live Video Links at the top left of this page.
Must Read these Commentaries:
An opinion in the C. S. Monitor makes very good reading. The writer opines that the "real fighting" in Baghdad has yet to take place. That fighting may take place in the underground tunnels that our military planners know about but have little real knowledge of today. Rumors of secret subways, dead end traps for the unwary and carefully planned escape routes abound.
The Arab News U.K. says that "Saddam Did Not Fall Alone."
The A.P. reported today that U.S. Military Campaign "was textbook," referring to its swiftness, audacity and effectiveness of its planning.
More Breaking News ...
CustomWire AP reports that Arabs are "shocked and relieved" that Saddam is finished. They also reported, "We discovered that all what the (Iraqi) information minister was saying was all lies," said Ali Hassan, a government employee in Cairo, Egypt. "Now no one believes Al-Jazeera anymore."
According to This report citizens are rising up and are said to be combating Saddam's elite black-shirted thugs in the streets of Basra and Baghdad.
SpaceWar.com reported earlier today that children were "running free" from Saddam's jails after being released by coalition forces.
The Washington Post reports that the Arab world is confronting their own emotions after they have viewed scenes of happy Iraqis cheering coalition forces. That report has many links for you to explore.
USA Today has very graphic reports on Saddam's secret prisons of horror.
ABC News reports on Saddam's brutal and sadistic rapist son Odai.
The Sun UK reports that Saddam is hiding in a secret fortress surrounded by loyalist troops.
Posted by Douglas Oliver on April 7, 2003 at 12:55 PM
(Last updated on April 14, 2003 at 5:54 PM)
Terrorists Seek Entry to the U.S. from Mexico Just As NewsPundit First Predicted on March 6th
This morning Bill Gertz reported in the Washington Times that terrorists seek entry to the US through Mexico. Readers of NewsPundit know I predicted this back on March 6th. (See my report below).
I quote briefly from the Gertz report:
* * * A group of al Qaeda terrorists is attempting to infiltrate the United States from Mexico to conduct attacks in the country, The Washington Times has learned.

At least 14 al Qaeda members are said to be in Mexico, said officials who spoke on the condition of anonymity. The al Qaeda members are working with Mexican organized crime groups, such as drug-trafficking organizations, in an attempt to enter the United States covertly, the officials said. No other details about the al Qaeda plan or its targets in the United States were disclosed. * * *
An excerpt from my earlier NewsPundit report:
Personally, I have seen reports on the Internet alleging that at least 500 -- and perhaps even more -- Iraqis are operating as covert spies or sleeper agents in the U.S. Most certainly, these alleged covert operatives are operating with deep cover identities. Many are certainly here illegally, have access to vast sums of cash, and carry false identification papers. There are even some reports saying that foreigners are entering the country illegally through Mexico or Canada. Some are rumored to speak a little Spanish, at least passably.

I believe it is long past time to close our borders and get very serious about people who may be covert operatives using stolen or false identities.
Here is one scenario that may be unfolding:
Covert Iraqi operatives and al Qaeda terrorists are certainly active here in the U.S. I believe that they have been entering the country from both Mexico and Canada. Some may have simply strolled through our airports using false identification papers. Who can tell the difference between an Iraqi and a Saudi or a visitor from any other Middle East country?
Not only do they carry false identity papers -- -- they may have access to multiple identities. They certainly have access to plenty of money. If they do not enter the country with identity papers, they can easily purchase them on the flourishing "black market" here in the U.S.
Some may have been carefully prepared for their missions. Some may have spent hours learning Spanish. Both Cuba and Venezuela reportedly have set up secret schools to train operatives in the Spanish language and local customs in Mexico, Central and South America. By adopting a simple disguise -- going clean shaven with a simple "buzz cut" and a moustache -- "Hamid Youseff" from Yemen may be transformed into "Jose Rodriguez Morales" from Mexico or Peru or any other country south of the border .
INS or FBI agents stopping "Jose" will be dealing with a severe language barrier at the outset.
"Jose" may say repeatedly, "No hablo uh ... English.. Apesadumbrado lesion del trabajo y no entiendo ..." (i.e. "I do not speak English ... Sorry I had a work injury and do not understand").
This raises several very problematic issues for law enforcement. They are obvious but not insurmountable in my humble opinion.
I repeat my warning posted on March 6th:
I believe it is long past time to close our borders and get very serious about people who may be covert operatives using stolen or false identities.
Posted by Douglas Oliver on April 7, 2003 at 7:35 AM
Breaking News: American Troops and Journalists Undergo Cleanup for Nerve Gas Exposure
I hate to tell everyone "I told you so" .... But my earlier predictions have proved true. (See reports below)
The Knight Kidder news service and CNN are reporting that they were indeed exposed to the deadly sarin nerve toxin earlier today. I quote briefly from their report:
* * * U.S. soldiers evacuated an Iraqi military compound on Sunday after tests by a mobile laboratory confirmed evidence of sarin nerve gas. More than a dozen soldiers of the Army's 101st Airborne Division had been sent earlier for chemical weapons decontamination after they exhibited symptoms of possible exposure to nerve agents.

The evacuation of dozens of soldiers Sunday night followed a day of tests for the nerve agent that came back positive, then negative. Additional tests Sunday night by an Army Fox mobile nuclear, biological and chemical detection laboratory confirmed the existence of sarin.

Sgt. Todd Ruggles, a biochemical expert attached to the 2nd Brigade of the 101st Airborne said, "I was right" that chemical agents Iraq has denied having were present. * * *

A CNN cameraman and two Iraqi prisoners of war also were hosed down with water and bleach. * * *
I urge readers of NewsPundit to read the full report.
More Breaking News . . .
The Drudge Report picked up on this report sometime after NewPundit posted it late yesterday evening. The link on Drudge goes a Knight Kidder report with The Charlotte Observer.
NewsMax.com reported today that the deadly sarin gas was discovered "just yards away" from the hotel where Hans Blix was staying with his inspection team. Calling Hans Blix ... ! Mr. Blix ... ?
PTD.net News reports that U.S. Marines have found a training camp just outside Bahgdad used by a "PLA faction" for bomb making.
Reuters is reporting that U.S. troops discovered missles and chemical warheads this morning.
The Toronto Star is reporting that the U.S. launched another "decapitation strike" aimed at Saddam and his top officials. There is no immediate word on the strike's success.
The same news was reported by all the major American televison networks. Try the links for real time video above.
In the meantime, an AP Report says Arabs around the Middle East are reacting with shock and dismay over the news that American forces have entered Baghdad and reportedly captured two of Saddam's palaces in the city.
Posted by Douglas Oliver on April 6, 2003 at 10:35 PM
(Updated throughout the day on April 7, 2003. Last update was at 8:15 PM)
American Woman is a Hero: "She Was Fighting to the Death"
American Pfc. Jessica Lynch was wounded multiple times as she fought fiercely to defend her company from an Iraqi ambush. She continued to fire her weapon until she ran out of ammunition. "She was fighting to the death," U.S. officials said. "She did not want to be taken alive." Private Lynch sustained several wounds and finally was stabbed by an Iraqi soldier wielding a knife. One official said that initial intelligence reports indicated that she had been stabbed to death.
That was the report late breaking tonight from the Washington Post about the young American woman who was rescued by Special Operations Forces on Tuesday.
(April 3, 2003)
I quote briefly from that report:
Lynch, of Palestine, W.Va., arrived yesterday at a U.S. military hospital in Germany. She was in "stable" condition, with broken arms and a broken leg in addition to the gunshot and stab wounds, sources said. Other sources said both legs were broken, and one arm. Victoria Clarke, a Pentagon spokeswoman, gave no specifics of Lynch's condition, telling reporters only that she is "in good spirits and being treated for injuries." * * *

"Talk about spunk!" said Sen. Pat Roberts (R-Kan.), whom military officials had briefed on the rescue. "She just persevered. It takes that and a tremendous faith that your country is going to come and get you." * * *
I urge every NewsPundit reader to hit the link above and read the full report. It also gives a some descriptive details about the rescue operation was conducted by a special team of Navy SEALs, Army Rangers and Air Force combat controllers.
Every American ought to stand and applaud Pvt. Lynch and our military personnel who are conducting themselves with such outstanding courage.
You May Leave Pfc. Jessica Lynch a Personal Message of Thanks Here:
News and Sentinel has set up a Message Board for Jessica.
U.S. Marine:Petition to Award Citizenship to Iraqi for Helping with Rescue
You may sign this petition Here
Posted by Douglas Oliver on April 2, 2003 at 11:40 PM
(Updated on April 5, 2003 at 9:26 AM)(Last update on April 8, 2003 at 11:30 PM
Recent Suicide Attacks May Signal Secret Iraqi Strategy: Allied Forces Must Beware of Sneak Attacks With Chemical and Bioweapons
We have all heard about the recent strategies employed by Saddam's elite Republican Guard. These new strategies have been carefully thought-out. They involve deception and the most vile of intentions. But more evil forms of ambush treachery may be unfolding in just a few days.
First we heard reports of Iraqi troops pretending to surrender and then attacking at the last moment. Then we heard reports that Saddam's elite forces were throwing off their uniforms and dressing as civilians. Reportedly, they are hiding in civilian homes waiting to attack U.S. and British troops entering major Iraqi cities. Most recently we have learned about two suicide missions that were undertaken: One was by an Iraqi dressed as a civilian, and the other was by an American in the 101st Airborne who carried out a grenade attack on his unit.
Make no mistake. The lone American who attacked sleeping comrades in arms was on a obvious suicide mission; he most certainly did not expect to survive.
He killed one soldier instantly with a grenade and severely injured 15 others with his rifle. First he tossed grenades into three tents and then ambushed bleary eyed soldiers as they fled his attack. There is an excellent article by Daniel Pipes describing the attack and the apparent motivations of the traitor involved. (March 24, 2003)
The other attack was by an Iraqi "civilian" who penetrated behind coalition lines and reportedly destroyed a tank with a suicide bomb. That report is posted on Albawaba.com in this morning's news. (March 25, 2003)
I suspect these most recent attacks are just the "tip of the iceberg." Soon we may be hearing about Iraqi troops dressing as innocent civilians -- or elite Iraqi troops surrendering -- to deliver Weapons of Mass Destruction.
The ideal weapon of choice is a biological weapon. It may be very hard to prove Iraq's intentional use of a banned biological weapon, particularly if the bioweapon is delivered by infecting troops or innocent civilians.
But the Iraqis may be growing increasingly desperate very soon. They may lack the patience to use biological weapons, and decide to use chemical agents or a small suitcase nuke. These types of treacherous attacks may be part of Saddam's secret Doomsday Scenario for America. (See my reports below).
Posted by Douglas Oliver on March 25, 2003 at 4:30 PM
U.S. Finds Iraqi Chemical Weapons Plant and Banned Cruise Missiles
These recent discoveries are breaking news on the Internet today. However, these reports are not even on the radar screen for the American mainstream media. Not yet. It will be at least a couple of days before you might hear about these reports on your local television channel. Or it may take a bit longer.
The major America networks are too busy broadcasting stories with geniune "human interest" impact. Their primary focus is zeroed in on accidental attacks on British warplanes and the first reports of deaths of troops fighting on the front lines. People across the nation are slowly waking up to realize that television journalists are not investigative reporters. Not by a long shot.
The discovery of the chemical weapons facility apparently shocked the U.S. troops who found the huge underground plant. It must have been shock to walk inside the huge underground facility stocked with hundreds of tons of weapons. And then finding Russian cruise missiles.
You may read the detailed report The Jersalem Post and a very short report on World Net Daily. The full report in the Jersalem Post is worth the few moments it takes to sign up. But it is not for the weak of heart. The gritty details are a bit scary.
Because this is just the our first discovery of Weapons of Mass Destruction and banned cruise missiles. We will be greeted by other discoveries in the following weeks. And many may not be very pleasant experiences.
But sources tell me that President George W. Bush must have received an encrypted telephone call at Camp David yesterday. He apparently cut short his planned weekend retreat at Camp David. I recall that on Friday evening my local television reporters were gushing about the President's "long weekend holiday." Little did they know . . . .
The caller must have had to inform the President's advisors about the Russian-made Al-Harith anti-shipping cruise missiles that had just been discovered. I can even imagine the unvoiced response.
Our military discovery yesterday must have had very serious diplomatic ramifications for the "Axis of Weasels." No doubt telephone lines are buzzing right now with diplomatic accusations and carefully worded denials.
Disingenuous evasions like, "Don't know nothing about it ! . . . " will be made with genuine sincerity by the allied governments of Russia, France, Germany, and China.
Yeah, right .... Hans Blix, where are you ? Mr. Blix ? !
I quietly reiterate my warning posted about Saddam's carefully planned "Doomsday Scenario" and his very evil secret intentions for America.(See below)
New reports are surfacing again today that Saddam was killed by our missile attack last week. But I believe that Saddam's Ba-Ath Party inner circle has the will to go forward with his evil plans even though he may be dead.
Fighting the Ba-Ath Party may be as dangerous today as taking on the Nazis was in 1942. Maybe more dangerous.
Posted by Douglas Oliver on March 23, 2003 at 3:50 PM
A Message for All People of Goodwill: "I was a naive fool to be a human shield for Saddam . . . "
I received an Email from a fan in England who reads my commentaries. He sent me a link to this morning's Opinion Section of Sunday Telegraph U.K.. It is a letter sent to that London newspaper by a young American who volunteered to be a human shield in Iraq. His name is Daniel Pepper. And believe me -- it is an eye-opening letter. (March 23, 2003)
I urge every visitor to this site to surf over to Pepper's letter on the link above. I quote briefly:
* * * I wanted to join the human shields in Baghdad because it was direct action which had a chance of bringing the anti-war movement to the forefront of world attention. It was inspiring: the human shield volunteers were making a sacrifice for their political views - much more of a personal investment than going to a demonstration in Washington or London. It was simple - you get on the bus and you represent yourself. * * *

I was shocked when I first met a pro-war Iraqi in Baghdad - a taxi driver taking me back to my hotel late at night. I explained that I was American and said, as we shields always did, "Bush bad, war bad, Iraq good". He looked at me with an expression of incredulity.

As he realised I was serious, he slowed down and started to speak in broken English about the evils of Saddam's regime. Until then I had only heard the President spoken of with respect, but now this guy was telling me how all of Iraq's oil money went into Saddam's pocket and that if you opposed him politically he would kill your whole family. * * *

It scared the hell out of me. First I was thinking that maybe it was the secret police trying to trick me but later I got the impression that he wanted me to help him escape. I felt so bad. I told him: "Listen, I am just a schmuck from the United States, I am not with the UN, I'm not with the CIA - I just can't help you." * * *

[A] few days later I left Baghdad for Jordan by taxi with five others. Once over the border we felt comfortable enough to ask our driver what he felt about the regime and the threat of an aerial bombardment.

"Don't you listen to Powell on Voice of America radio?" he said. "Of course the Americans don't want to bomb civilians. They want to bomb government and Saddam's palaces. We want America to bomb Saddam."

We just sat, listening, our mouths open wide. Jake, one of the others, just kept saying, "Oh my God" as the driver described the horrors of the regime. Jake was so shocked at how naive he had been. We all were. It hadn't occurred to anyone that the Iraqis might actually be pro-war.

The driver's most emphatic statement was: "All Iraqi people want this war." * * *
I believe in freedom for the Iraqi people. That is just one reason why NewsPundit.net supports this war and the possibility of a democratic government for Iraq.
Posted by Douglas Oliver on March 23, 2003 at 4:30 AM
U.S. Marines Enter Basra to Cheering Crowds -- While U.S. Peace Protestors Support Saddam and Engage in a "Gross Out"
This is the crazy state of affairs in the world today. It looks to this independent reporter as though the world has been turned upside down. Iraqis cheer U.S. marines in Basra . . . . . While thousands march against the war and their peace demonstrations turn violent in Los Angeles and elsewhere across America.
According to a BBC Report this morning the marines entered Basra and were applauded by Iraqis. (March 22, 2003). Similar scenes of open Iraqi support were replayed repeatedly on television.
I quote briefly from that report filed by a BBC reporter "embedded" with our troops:
* * * Coming into Basra as part of a massive military convoy, I encountered a stream of young men, dressed in what appeared to be Iraqi army uniforms, applauding the US marines as they swept past in tanks.

US predictions that many here would choose to surrender rather than fight appear to have come true * * * Leaflets had been dropped on the city, urging members of the 51st Iraqi Division to surrender, and I saw hundreds doing so. * * *
Peace protests around the United States are supported by hundreds of churches. Some of the major Christian denominations have high ranking leaders applauding and supporting peace demonstrations. Yet the American public is growing weary of protests that support Iraq's brutal terrorist-dictator Saddam Hussein. Polls conducted from Portland, Oregon to San Francisco to the east coast found people strongly support President George W. Bush and the war on Iraq.
The major media networks and local television continued to broadcast protests and demonstrations. But even the talking heads seemed to lack conviction in their voices while talking about these strange peace marchers. Local news commentators appeared to learn the painful truth about these "peace" demonstrations first-hand: They were not peaceful demonstrations and the intention of the leaders was to disrupt city commerce. In San Francisco reporters were visibly upset by the sight of demonstrators defecating and vomiting in the streets.
The demonstrators looked to me like a very odd mix: Old hippy types, "Workers of the World" and Green Party loyalists, violent rabble rousers, curiosity seekers, college students, strident professional protestors, and disenchanted youths in "Goths" costumes partying the night away.
They were not legitimate peace demonstrations by an American public outraged by a very unpopular the war. Rather, they were simply a major public "Gross Out."
Posted by Douglas Oliver on March 22, 2003 at 3:56 PM .
Saddam May Be Plotting a "Doomsday Scenario" for America While the French Play Deceitful Word Games
I have watched France defend Iraq despite everything they know about Saddam's regime. The French are clever and devious and treacherous. They are experts in manipulation and pompous pronouncements. They are not cowardly. Rather they prefer taking calculated risks. They are completely amoral and believe in following their own secret strategies.
France is Waffling Again: Do Not Believe a Word They Say
France says it "could help" if Saddam uses biological or chemical weapons on U.S. troops.
I quote from an AP Report late yesterday (March 18, 2003):
* * * The French military could help the United States if Iraq uses biological or chemical weapons against U.S.-led invaders, the French Foreign Ministry said Tuesday.

France has led opposition to U.S. war plans in Iraq, but the Foreign Ministry said Iraqi use of biological or chemical weapons in a war could change France's position.

"France would assess what measures of assistance to take in a spirit of friendship and solidarity," a ministry statement said. It gave no other details.
The French are masters of "word parsing." It is critical to know exactly what the spokesman said to certain anonymous AP reporters. Was the phrase used "pourrait aider" meaning France "might help." Or was the phrase more like "la force aident probablement" meaning "might possibly help?" The "might possibly help" scenario in diplomatic circles means that the offer to help is greatly diminished by undefined contingencies. The offer to help is truly illusory and is best interpreted as a form of polite chatter. I can imagine that spokesman studying the reporter with a raised eyebrow while watching him scribble madly on a small notepad.
Note there is not a single word about what the French "might do" if Saddam uses chemical or biological weapons on his own people.
France has carefully parsed out possible exceptions and have left a several ways open to wiggle out of any possible blame. That tells me there may be serious trouble ahead for the United States. We may soon learn about real treachery and terrible consequences.
What Saddam May Be Planning:
There have been many reports out of Iraq and neighboring states that Saddam has placed the control of his weapons of mass destruction into the hands of the Republican Guard.
I have speculated about the "Doomsday Scenario" in previous commentaries. (See below). And I truly believe that Saddam is preparing a deadly ambush for U.S. troops. But he will wait until the last possible moment.
Saddam will be terribly frustrated when he sees the rapid advance of our troops. He will find that everything with an electrical motor or gasoline or diesel engine will not start. No Iraqi plane will fly and no tank will move its tracks. Telephone and radio communication will be impossible. Saddam may find he is deep underground with no power to run an elevator to ground level. He may then act with calculated fury. I believe he will order his troops to unleash whatever weapons he has hidden from U.N. inspection teams.
The Pundit: My biggest fear is that Saddam will light off a small nuke or use an exotic nerve gas in a small section of Baghdad. .... And through the "Axis of Weasels" in the U.N. point the finger of blame at the United States. Because the type of weapon he may unleash is a type of weapon that is known to be in our own arsenal. (Also the arsenals of France, Germany, Russia and China).
The result would be pandemonium in the Arab world. Muslims would never accept the truth or even consider that the U.S. might be innocent. The shouts of "Jihad" and "Allah Akbar" would be heard in the streets of every capitol in Europe. There would be terrible consequences for the United States and our allies. Terrorist attacks would quickly follow here at home.
Saddam is committed to the destruction of the U.S. by any means necessary. I also believe that Iraq was directly responsible for every terror attack we have suffered from 1993 to date on American soil. He is like a huge spider weaving a web of terror and calculated traps for the unwary.
I hope and trust that President Bush knows all this and more and is prepared for every contingency. There is a reason why his hair has turned gray so rapidly. Let us all pray for George W. Bush and for our brave troops in harms way.
Posted by Douglas Oliver on March 19, 2003 at 3:40 PM
Colin Powell: 45 Nations Back the United States in Supporting Iraq War
It was reported this morning that the U.S. has strong backing for war in Iraq. The Sydney Morning Herald went on to detail the nations supporting President Bush's plans to oust Iraqi leader Saddam Hussein. (March 19, 2003)
I quote briefly from that report:
* * * US Secretary of State Colin Powell said today that 45 nations backed the United States in the coalition that may soon go to war with Iraq. Thirty of those countries - who have offered troops, overflight rights, logistical support and assistance and Iraqi reconstruction projects - were willing to be named publicly while 15 preferred to remain anonymous at the present.

"Thirty nations have publicly said they can be included," he said in a State Department interview with international news agencies. The 15 others "will be known in due course."

The department later released a list of the countries that it said were included in what it called the "Coalition for the Immediate Disarmament of Iraq."

Those countries include: Afghanistan, Albania, Australia, Azerbaijan, Britain, Bulgaria, Colombia, the Czech Republic, Denmark, El Salvador, Eritrea, Estonia, Ethiopia, Georgia, Hungary, Italy, Japan, South Korea, Latvia, Lithuania, Macedonia, the Netherlands, Nicaragua, the Philippines, Poland, Romania, Slovakia, Spain, Turkey and Uzbekistan. * * *
How Strange. .... From the major American television networks I was given the distinct impression that President George W. Bush was "defying the world." It appears that in the eyes of the talking heads the only nations with a correct view are: France, Germany, China, and Russia. I have yet to see a single report on television about the illegal arms-for-oil trading deals that were made by these countries with Iraq.
Billions and billions in secret financial deals were made in violation of the trade embargo designed to keep Saddam from re-arming. The networks have yelled loudly and long about Enron's secret deals. But they have not said one word about the treachery of the "Axis of Weasels." (See my reports below)
There is a report circulating by E-mail that French diplomats and secret agents have been helping Saddam destroy thousands of pages of documents recently. I wonder what those documents might show to an objective investigator ....
The Pundit: It appears to me that Saddam might be pounding on the table saying he will "fight to the death" at the same time he is planning his escape.
And leaving his Republican Guard to terrorize the Iraqi people. Oh, well .... just par for the course for Saddam.
Posted by Douglas Oliver on March 19, 2003 at 5:30 AM
Iraq's Ambassador to Spain Had Direct Contact with 9/11 Terrorist and China Sold Iraq Prohibited Missile Fuel through "French Connection"
Spain has uncovered the "smoking gun" linking a 9/11 terrorist directly with a high Iraqi official. This previously classified information was reported in the The Observer U.K. this morning. (March 16, 2003)
It appears that over 40,000 pages of documents were seized by Spanish authorities at the home of Yusuf Galan and seven other suspects. Galan is in custody and awaiting trial in Madrid.
Quoted here are excerpts from the Observer's report:
An alleged terrorist accused of helping the 11 September conspirators was invited to a party by the Iraqi ambassador to Spain under his al-Qaeda nom de guerre, according to documents seized by Spanish investigators.

Yusuf Galan, who was photographed being trained at a camp run by Osama bin Laden, is now in jail, awaiting trial in Madrid. The indictment against him, drawn up by investigating judge Baltasar Garzon, claims he was 'directly involved with the preparation and carrying out of the attacks ... by the suicide pilots on 11 September'. * * *

Evidence of Galan's links with Iraqi government officials came to light only recently, as investigators pored through more than 40,000 pages of documents seized in raids at the homes of Galan and seven alleged co-conspirators. * * *

George Tenet, the Director of the CIA, has made increasingly strong statements alleging such a connection. In Congressional testimony last month, he said that Iraq had co-operated with al-Qaeda for 10 years, and that it had trained al-Qaeda members in bombmaking and the use of chemical and biological weapons. In an apparent attempt to refute the sceptics, he said this information 'comes from reliable sources' * * *
Top investigative journalist Bill Gertz reported in The Washington Times yesterday that China sold prohibited missile fuel to Iraq through a secret "French Connection."
The sale reportedly was made in August and according to officials in Washington was brokered through France and Syria. While France was denying the report, Deputy Defense Secretary Paul Wolfowitz was meeting with France's ambassador to the United States for what were termed "candid" discussions about Iraq.
Rumors are circulating in Washington about other meetings with the ambassadors for China and Russia.
Apparently France has been engaged in double dealing and overt deception about its secret deals with Iraq for many years. (See my reports below) Yet the French government has been pontificating about its alleged moral superiority before United Nations Security Counsel for months. It is time for the leaders of France to sit down and do a little deep moral reflection. The time for pontificating is over.
In my opinion, these breaking news reports are solid evidence of the "smoking gun" that the American television news media have been seeking. The major networks have investigative staffs and experienced reporters. They have the ability to connect the dots and follow the "money trail" and other evidence of the perfidy of France, China, Germany and Russia ..... Why do they hesitate?
When will Americans finally get to see genuine investigative reporting by the major networks?
Don't hold your breath. Maybe a week after our troops have captured Bagdad.
Posted by Douglas Oliver on March 16, 2003 at 11:00 AM
Commentary on Hot News: Former Clinton Aide Reveals Bill Told Outrageous Lies to Win Reelection and Lost the Nuclear Codes !
This shocking news was revealed this morning by a "Washington Whispers" report by U. S. News reporter Paul Bedard. The news comes from former military aide Lt. Col. Robert Patterson, who carried the nuclear "football" for President Clinton from May 1996 to May 1998. It is in Patterson's new book: Dereliction of Duty: The Eyewitness Account of How Bill Clinton Compromised America's National Security.
The book crosses a line that no other military aide ever crossed before in condemning his former commander in chief. Click Here for a Full Excerpt
I quote briefly from the book:
Another shortcoming was dishonesty - not just about golf and extramarital affairs but also about our national security. Such dishonesty said much about the president's priorities. On August 26, 1996, just three months into my tenure, I was accompanying the president in Toledo, Ohio, on one of his many reelection campaign events. I listened to his speech from one of the "hold" rooms offstage. Television images and sound were piped into the room by the White House Communications Agency. I heard President Clinton say, "For the first time since the dawn of the nuclear age, on this beautiful night, there is not a single nuclear missile pointed at a child in the United States of America."

I looked down at the black satchel at my side. "What?" I mumbled out loud. I turned to the military White House doctor along on the trip and asked him, "Did he just say what I think he said?" The doctor shrugged and nodded. It was patently untrue, and anyone with a remote knowledge of military and foreign affairs knew it was untrue.

* * * That autumn, I heard him deliver the line in speeches again and again and again. President Clinton made this claim more than 130 times during the 1996 reelection campaign alone. It left me slack-jawed that one of his major campaign themes could be such an obvious, whopping lie. * * *
Of course Clinton's political lying and vote pandering were no secret to anybody who followed news reports regularly. I did not believe the "no-missiles-threaten-us-today" lies when I heard them at the time. But he had a flair for winning the votes of working married couples. Bill Clinton could take any issue, and tie it to the concerns of working families with children. Take any issue, and add in the magic words, " for the children." Lying was just second nature to him. His lies were so smooth, so carefully crafted, and so "larger-than-life."

Amazing, because tying in the "for the children" focus was so terribly crude and so outrageously bold that it worked time and time again to win votes.

In my humble opinion, Bill Clinton should have been impeached for losing the nuclear codes and on that basis alone. It was a spectacular violation of our national security laws and a cavalier betrayal of the public trust. Clinton's political team working in the White House basement were able to turn the Constitutional process of impeachment for "high crimes and misdemeanors" on its head. They changed the political landscape of America forever with their issue avoidance argument: "It's just about sex."

It is time for people to demand that Bill Clinton just slink away from public view and hide under a rock somewhere.

Posted by Douglas Oliver on March 15, 2003 at 10:00 AM (Updated at 12:37 PM)

Blix Overlooks Hard Evidence of "Smoking Guns" While Old-European Nations Engage in Diplomatic Perfidies: What is Really Going On ?

My head is spinning after the latest flurry of confusing news reports over what is going on in the United Nations. Let me summarize briefly:

There were a series of rather brave investigative reports and political commentaries coming out of France and Germany late last week. (Please feel free to use the language translators provided on this site. I have posted an English translation of one report below today):

Background:

First were two rather long reports in Sunday's Berlin daily Die Welt indicating that France and Germany were trying to protect their enormous financial stake in illegal arms for oil trade with Iraq. The report boldly accused France and Germany of making secret deals with Saddam. According to the report, billions and billions of illegal profits are at stake: "A Veto for Oil and Weapons." (March 9, 2003). English Translation

The other report accused the German government of vast ignorance and short sighted policies: "Chancellor Schroeder is Playing into Saddam's Hands" screamed the headline over that Op Ed. (March 9, 2003)

The reports in Die Welt are bolstered by a more detailed summary from the Heritage Foundation which concludes that France, Germany, Russia and China had expected billions of dollars in profits and oil in exchange for trade with Iraq. The facts revealed by this report are shocking enough. What we do not know are the nasty details of other secret deals, shrouded by "national security" interests of the nations involved. (February 28, 2003)

My report from a few days ago on what is happening in France is posted here. In an interview that appeared in Le Monde the former Socialist Heath Minister attacked Chirac for posturing and dissembling on Iraq. (March, 8, 2003). He was quite convinced that Iraq had illegal chemical and biological weapons. (Read report below).

Blix Caught Hiding Several Smoking Guns:

There were new reports over the weekend that Blix infuriated Secretary of State Powell by his failure to report publically on some his findings. But that was just a "tip of the iceberg."

The London Times reported this morning that "Blix 'Hid Smoking Gun' from Britain and US." The smoking gun in this report was the illegal Iraqi drone -- -- designed with a giant wingspan to rain illegal chemical and bioweapons down on American and U.K. troops.(March 10, 2003)

Another report this morning in the same London paper detailed the importance of this discovery. (March 10, 2003)

Mr. Blix publically praised Iraq's "cooperation" for destroying a few of Al Samoud missiles. However, Blix did not announce that the illegal engines were first removed ! This fact was reported by The World Tribune on Friday (March 7, 2003). It was the engines that made the missile illegal, and the engines were saved from destruction by Saddam. Lies and deception, again.

Also overlooked by Blix was the fact that Iraq had moved the vast majority of its missiles closer to the border with Kuwait. (See my report below).

What more is there to say? ... Material Breach !

"What is really going on here?"

To me one answer is obvious and patently unavoidable: William Jefferson Clinton. After years of political corruption, allegations of bribery, sexual scandals, impeachment, and major foreign policy blunders, France and Germany must have become convinced that politics in the U.S. was every bit as corrupt as it was in Europe.

Clinton had engaged in appeasement as his foreign policy with both Iraq and North Korea. He had fought a war in support of an Albanian sponsored terrorist invasion in Kosovo. In short, Clinton traded away a Great America Legacy of international leadership for paper treaties and diplomatic assurances that meant nothing.

France, Germany, Russia and China must have become convinced that they had been given the "green light" to wilfully violate the trade restrictions on selling weapons to Iraq. Weapons and weapons technology and arms expertise were sold in return for Iraqi oil.

Which leads me to two significant conclusions:

Right now President George W. Bush looks like a badly underestimated foreign policy genius and a model of resolute clarity. There is a new sheriff in town. He is demanding that members of the Security Counsel show their all cards. He wants no surprises, and will accept no excuses.

Second, the United Nations has apparently lied with premeditated resolve so many times, that it has proved its irrelevance beyond doubt. In addition, the United Nations apparently is growing rich from the "Oil for Food Program" that it administers. It is in a rather strange partnership with Iraq and has as much to lose as France and Germany: Estimates are Billions of Dollars in annual revenue are collected from a brutal and corrupt regime. Frankly, it appears that the U.N. has been corrupted by cash payments received from Iraq.

Late this afternoon, I learned of a report just published in a U.K. paper, Yorkshire Today, that Members of Parliament were informed yesterday of documented details of horrific tortures that Saddam orders for citizens of Iraq. These details are too terrible to repeat here. (Click on the link above) But several of the witnesses expressed outrage at the craven views aired by France and Germany. (March 12, 2003)

The United Nations has been aware of Saddam's blood thirsty habits, yet has stood silently by without raising a finger.

The U.N. has thus betrayed its primary function: To Keep the Peace.

In short, the United Nations has proven itself to be irrelevant. So be it.

Posted by Douglas Oliver on March 10, 2003 at 11:39 AM;

(Updated March 11, 2003 at 1:25 PM and March 12, 2003 at 5:50 PM)

Breaking News in the United States: Chirac Under Attack in France for His Outrageous Posturing on the Iraq War

I have been alerted recently to political events unfolding in France. In an interview that appeared in Le Monde on March 3rd, Bernard Koucher attacked the President of the French Republic for outrageous posturing. Mr. Koucher is the former Socialist Health Minister, a founder of Doctors without Borders and served as the head of the UN Mission to Kosovo in 1999.

It occurs to me that this attack was particularly harsh, because it comes from a man with extensive first hand experience in Kosovo, and who apparently often put himself in great personal danger by traveling to the war zone.

What follows is my own translation of portions of that interview. I apologize in advance for any errors or inaccuracies:
Bernard Kouchner: "France is Trapped in a Dead End."

Iraq sends its missiles for destruction. Isn't this the proof that the inspections are effective?

It is proof initially that it has the missiles, and from that it follows it also has biochemical weapons. ***

You are in favor of the war?

I detest war, which I have more experience than anyone, over a 40-year period. War is a really bad solution. But there is a worse solution. That's to leave in place a dictator who massacres his own people. I wish that we might hear the most important protagonist in this crisis, the most directly threatened: the people of Iraq who are subjected to dictatorship.

Is the overthrow of Saddam Hussein more important than his disarmament?

Yes, its the most important objective. There are very few days or weeks remaining. Perhaps there's a 10 per cent chance we can avoid war. By the combination of a military threat which would not need to be carried out, diplomatic pressure and the pressure of public opinion I think we could still propose common attitude which would lead to Saddam Hussein leaving power.

*** Is it wrong for France to oppose the US?

The first stage of the French diplomatic move was perfect: the part which consisted in making the Americans return to the framework of the UN. In the second stage of this process, we acted much in far "too macho" * of a fashion and miscalculated. At a certain moment we started waving our right to veto about. I regret this infinitely. It is very damaging.

Is France then at a dead end?

Yes, we are at a dead end. We've deepened the fracture of Europe, rather healing it. We have harnessed ourselves to German pacifism and that was an error. We have antagonized the East European countries who emerged from dictatorship. That was our second mistake. Finally we opened up a serious fracture with the US. That's what I have to blame the President of the Republic for doing. *** "
* In idiomatic French the idea translates roughly as "We used the iron arm, were acting much too virile." By making his criticism in this particular manner, Mr. Koucher was attacking Chirac for his outrageous posturing, and over-playing his role.

I stand and applaud Bernard Kouchner !

Certainly, I wish the American television media was reporting this development in France. But, the networks seem to be lining up quietly on the same side as Chirac. The major media networks seemingly are focused on a private and unvoiced agenda to undercut President Bush at every opportunity.

Posted by Douglas Oliver on March 8, 2003 at 7:43 AM

Old Breaking News and Commentary: The United States Has Asked at least 60 Nations to Expel 300 Iraqi Spies and Covert Agents

A report out of Washington D.C. early this morning has shocked people worldwide. Many of the 60 nations, allegedly, and their citizens -- who may even oppose the war -- did not even know Iraq had covert agents operating in their countries. I quote a short excerpt from the AP report:
*** "The United States has asked about 60 countries to expel selected Iraqis who officials say are undercover agents possibly poised to attack American interests overseas, officials said. ***

The government has identified 300 Iraqis in the 60 countries whom officials want expelled, the U.S. officials said. Some are operating as diplomats out of Iraqi embassies, the officials said, adding that the foreign governments were expected to comply with the U.S. request. ***
The spokesman for the U.S. State Department did not offer any clarifying information about the number of nations notified, or how many suspected Iraqi operatives might be involved. This action comes immediately after a report filed yesterday, that at least two U.N.-based Iraqi diplomats were asked to leave the country.

Personally, I have seen reports on the Internet alleging that at least 500 -- and perhaps even more -- Iraqis are operating as covert spies or sleeper agents in the U.S. Most certainly, these alleged covert operatives are operating with deep cover identities. Many are certainly here illegally, and have access to vast sums of cash, and carry false identification papers. There are even some reports saying that foreigners are entering the country illegally through Mexico or Canada. Some are rumored to speak a little Spanish, at least passably.

I believe it is long past time to close our borders and get very serious about people who may be covert operatives using stolen or false identities.

Posted by Douglas Oliver on March 6, 2003 at 9:34 AM

Los Angeles Times and an L. A. On Line Newspaper Allege CBS "Faked" Parts of the Saddam Interview

A report this morning in Los Angeles, a member of the Screen Actors Guild is taking credit for his most recent high profile role: Playing Saddam Hussein. Provided below is a brief excerpt from that report:
*** "Last week, for 17 million TV viewers, he was also the voice of Saddam Hussein during Dan Rather's exclusive CBS News interview of the Iraqi leader. Apparently putting on an Arabic accent, [Steve] Winfield -- who spoke with a seemingly everyday North American accent when he talked briefly to a reporter this week -- read Hussein's answers to Rather's questions. ***"
Pardon me, while I take a short break from typing. Was afraid I might spill my coffee while laughing. Continuing with that brief excerpt:
*** "The translation was "100% accurate," CBS News said in a statement, describing Winfield as one of four translators it hired. The accent, CBS said, was meant to provide "a voice compatible with the piece." A network spokeswoman said Winfield was supplied by a translation service; she said she does not know whether Winfield in fact speaks Arabic. ***
It seems to this objective reporter that television has been pushing the envelope of acceptability for years. Now is it really, really necessary to have actors provide voices for Middle East Despots? Or was it just "good television?" What was wrong with Saddam's real voice ?

Of course, all this assumes that CBS was able to make an excellent recording in terms of its electronic quality. Perhaps, the real voice of Saddam was, er -- uh, perhaps just a few octaves too high? By that I mean perhaps his voice was too high to be taken seriously by an American audience?

We like to think that our favorite Villain of the Moment is truly a menacing figure. Sadly, now we will never know.

It occurs to me: When a major American media network must provide an actor to play Saddam, it is just another sign his time is running out. The final countdown for Saddam is almost over. Tick, tick, tick ...

Posted by Douglas Oliver on March 5, 2003 at 8:43 AM

Hot News Yesterday: Iraqi Missiles Moved to Easy Striking Distance of U.S. Forces Stationed in Kuwait

An exclusive news report filed by the World Tribune about four hours ago makes Saddam out to be one of the most outrageous liars in history. While promising to destroy his illegal missles, Saddam has moved the majority them into strategic striking distance of American troops. The missiles have been moved from around Baghdad, to new lauching sites about 150 kilometers from the Kuwaiti border.

With tactics reminiscent of Adolph Hitler, Saddam has managed to delay Hans Blix's inspection team with more lies and deceptions. Iraq has merely been staging a performance, by wrecking a few missles, while it has really been moving them closer to American forces.

It looks to this observer like Saddam is planning a First Strike on U.S. forces by Iraq.

Posted by Douglas Oliver on March 3, 2003 at 2:35 PM

Exclusive NewsPundit Report: Learn the Truth About Nuclear, Chemical and Bioweapons

Here is a private email message which was forwarded to me for distribution. The contents of this message should have a calming effect on the public. The Pundit is in favor of everybody remaining calm, collected and clear-headed.

Then "stand, watch and listen" ....

Posted by Douglas Oliver on March 4, 2003 at 7:19 PM

U.S. Officials Name Mastermind of Twin Tower Attack and Charge that Saddam Hussein is the Puppet Master

A report in the Sunday Independent U.K. alleges that Khalid Sheik Mohammed was the true Mastermind behind al Qaeda's Twin Towers Terror attack. Also implicated by this major breakthrough is Ramzi Yousef, convicted of a leading role in the 911 attack on New York. Officials in the United States are jubilant over the capture of Mohammed in Pakistan.

Bush officials say they have established links between Mohammed, Yousef and Saddam. While the U.S. is very protective of its security, it now appears certain that many people have spilled the beans on Saddam. In addition, it is likely the U.S. has covert intelligence that the U.S. Military, CIA and NSA have known about for months.

There is a strong likelihood that Yousef may be an Iraqi agent operating under a deep cover assignment.

The final countdown on Saddam has begun. Tick, tick, tick ...

Posted by Douglas Oliver on March 2, 2003 at 1:29 PM

Iraqi Scientist: "Chemical and Biological Weapons Circle Bagdad"

According to a Reuters News report a former top scientist for Iraq, Dr. Hussain Al Shahristani, believes that Saddam has hidden his chemical and biological weapons (CBW) deep in underground tunnels. The scientist indicated that these illegal CBW weapons would be impossible to locate, even with more many more United Nations inspections.

Dr. Al Shahristani claims that Saddam has constructed a "Circle of Chemical and Biological Weapons" around Bagdad and has Planned a Terrible Doomsday for the Iraqi People.

The Pundit: Saddam Plots a "Doomsday Scenario" for America

I have been predicting this very real threat as a possible scenario for several weeks now. This may be a primary secret motivation behind Saddam's Qur'an scriptures, reportedly written in his own blood. Saddam may be intending to die a martyr's death -- while cleverly setting up the Bush Administration for terrible consequences. This classic scenario -- "The Martyr's Death in a Jihad" -- needs to be understood by western political leaders. Arranging for third parties to take the blame would appeal to the Iraqi leader, especially if it triggers spreading violence in the Middle East.

The Bush administration must begin voicing its concerns about this as a possible Iraq War scenario immediately.

Posted by Douglas Oliver on February 18, 2003 at 3:45 PM

Bush Administration Officials: "100% Chance Saddam Will Use Chemical and Biological Weapons on His Own People" ...

Just as I predicted on February 18th, the Pentagon is aware of Saddam's unvoiced threat that he secretly plans the cold blooded murder of thousands his own people. This is the "Doomsday Scenario" that must concern Bush administration officials.

In a major investigative report USA Today published this morning, they predict:
*** "There is a 100% chance [Saddam] will try to use chemical and biological agents," Peters says. "And the sad thing is, he will try to blame it on us and there is a substantial portion of the Arab and Muslim world who will buy into that. ***"
Of course, these are very serious risks, and far beyond the control of the U.S. military.

At least the White House is starting to raise the "Doomsday Scenario" into public focus now. It seems that the Bush administration is realizing they need to come forward with what they know about Saddam's secret agenda.

The article in USA Today also points out that the War on Iraq will involve total stealth, rapid strikes and top secret weapons. It will be a totally new type of war.
*** " [T]he lights will go out literally for military commanders and Saddam's security forces, whose radios, telephones and computers will be zapped by powerful new weapons known as "e-bombs." These bombs use electromagnetic energy to generate crippling power surges.

What follows the barrage of several thousand smart weapons will be the kind of war the United States has never fought on this scale before: a rapid, violent invasion whose main goals aren't to seize territory or destroy a large army. Instead, if all goes according to plan, U.S. forces will kill or capture Saddam and anyone keeping him in power, while leaving Iraq's regular military, its civilians and most cities and towns untouched. If it works, it will be the model for U.S. wars to pre-empt terrorist threats for decades to come ***"
Let us pray that these new strategies prevail against Saddam very quickly.

Posted by Douglas Oliver on February 21, 2003 at 8:59 AM

The German Government Knows Iraq Has Biological Weapons ...

This evening we learned that a major German newspaper, the Frankfurter Allgemeine Sonntagszeitung, had reported the German Government Knows Iraq Has Biological Weapons. What is more disturbing, is that Herr Schroeder may have covered up this information while he was playing for time on Iraq's behalf.

The headline may be interpreted to read "Biological Terrorism: Danger Hushed Up."

You might try experimenting with the German to English automatic translators above. I prefer the Google option, but we have given you three choices. One interpretation of an excerpt from this article is floating around on the web and is set forth in part below:
*** "The Federal Government has apparently concealed information that Iraq possesses biological weapons of mass destruction and is threatening Germany with them.

In a government document dated August 9 of last year, which this newspaper has in its possession, it was warned that in attacks using smallpox agents, in which up to 25 million Germans could fall victim, there was not sufficient vaccine available. Not publicizing the document has fueled suspicion that the Red-Green coalition hushed up the actual threat by Iraq a few weeks before federal elections and that it is still not informing the public completely about the extent of the threat." ***
Germany has many problems with its leadership. Voters in Germany have to start asking very serious questions of Herr Schroeder and Germany's foreign minister Joschka Fischer. For Example: What illegal technology and materials did 80 German companies sell to Saddam? What did the German government know about these sales at the time, and did the German leadership knowingly approve them ?

What will world the world think when U.S. troops open up Saddam's secret tunnels and reveal hundreds of boxes of illegal chemical and biological materials manufactured in Germany and France ... ? Things like VX gas, one of the most terrible weapons ever developed, and other weapons of mass destruction?

It looks to me like Herr Schroeder has some " ... 'splaining to do."

Posted by Douglas Oliver on February 18, 2003 at 8:43 PM

"Winds of Change:" A New Web Site Offers A Promise for the Future of Genuine Brotherhood Between the Major Religions

I happened across a new web site yesterday that really opened my eyes. The site is dedicated to a new spirit of brotherhood between the religions. Here is a brief excerpt from the web site:
*** "As many of you know, Saturday is the Jewish Sabbath. In that spirit, our Saturday posts to this blog will always be "good news". We will share Sufi wisdom, highlight the acts of good and decent people, laugh at humourous events, and point to amazing discoveries that could benefit humanity. My Muslim, Christian, and non-religious colleagues have graciously agreed to respect and work within this Winds of Change tradition ***"
I believe we all should applaud this effort to spread genuine understanding between the great religions of the world. Really, "why can't we all just get along?"

Posted by Douglas Oliver on March 1, 2003 at 2:23 PM

On the Far Side of the World: An Islamist Web Site Spews Hatred and Issues Warning of New Attack on the U.S. on or before March 4, 2003

A report appeared on February 24, 2003 on the MEMRI web site that they had discovered an Arabic message on Islamist web page (www.alfjr.com) claiming a new attack was being launched on America within ten days:
" *** Our Dead Go to Paradise and Yours Go to Hell... Rejoice, Oh Lovers of the Hur [i.e. the Black-Eyed Virgins of Paradise] and the Gardens [of Paradise]" *** "The Train of Death is on its Way" *** "The train of death is on its way. Its riders are steadfast. Nothing will stop them or turn them back, *** from the goal: neither the bushes of the enemy nor his weeds, neither his reptiles [nor] his lizards will stop its progress."
I have little patience personally with messages of this sort. They are contrary to most everything most of the people I know hold to be true. Sounds to me like school yard chanting and taunting. Spewing hatred and violence demonstrates a mind set that has given in to the "Dark Side."

Do 'Islamists' [i.e. fundamentalist Muslims harboring a keen desire for Jihad, ending with a Martyr's Death, and a guarantee of 72 virgins in Paradise.] really think this way? Yes, unfortunately, they really do.

That is one reason why for the past two thousand years most of the Arab World continues live in poverty. Since the Seventh Century, many have dreamed of conquering the world by Jihad, while they live and struggle in abject poverty. They have no industry, build no societal infrastructure, deny schooling to females, and live without any real promise for improvement in their lives. The real tragedy is their children, and their childrens' children, will live out their lives in exactly the same way. If they had no oil, they would have only desert sand.

Sad, really, but there you have it.

Posted by Douglas Oliver on February 18, 2003 at 8:43 PM

Heard Today in Portland, Oregon: "French Fries are out -- Freedom Fries are in ... " Re: French Attitudes Toward Iraq and Fighting Terrorism

There was an AP news report out of North Carolina that people are no longer selling or eating French fries in restaurants. They are demanding "Freedom Fries" instead. And asking their favorite restaurants to change their menus.

Seems that people are fed up with the French. Well, after saving their butts in two World Wars, I guess Americans have a right to feel pretty torked off.

I heard the report from a fellow guest in a restaurant. The restaurant is changing their menu. Also heard a story that a major restaurant in New York City thrilled patrons by dumping dozens of bottles of French wine into the gutter. Wow! Hope the report is true, but it has the tone of an urban legend.

The report hit the Internet on February 19th and it was spreading like wild fire and gaining momentum in Portland by the 22nd. People were talking about dropping the word "French" from several other favorite expressions. Now we have even heard about "Freedom Kissing" and "Freedom Poodles" during the same converation.

I think the best way to get under French skins is to just ignore them. Nobody speaks French anymore in diplomatic meetings. They must be slowly boiling with unexpressed rage.

German auto manufacturers are concerned about losing their share of the U.S. market. There are rumors spreading about a boycott. Only time will tell.

Posted by Douglas Oliver on February 23, 2003 at 6:36 PM

Iraq stands in absolute violation of .... How many U.N. Resolutions has Saddam blatantly ignored and flagrantly violated ... 16 or 17 or 18... ?

The United Nations joined the U.S. and the U.K. today to demand that Iraq must answer questions about its nuclear, chemical, biological and long-range missile programs. It is about time. A person with normal sensibilities just cannot keep up with Saddam's repeated lies and disingenuous evasions.

From the report on Fox News cited above we learned that:
*** "A U.S. official in Washington said a new resolution that would give a green light to use military force was expected to be presented to the Security Council on Monday ... A British diplomat at the United Nations said the resolution was expected early next week ***

In his report to the council Friday, [Hans] Blix said Iraq had presented a list of 83 participants 'in the unilateral destruction in the chemical field, which took place in the summer of 1991.' He asked Iraq for a similar list of people who took part in the destruction of other banned items, especially in the biological field ***

*** Iraq is still not cooperating "on substance," though it was allowing surveillance flights and had turned over new lists of people who might be interviewed *** 'What we need ... is voluntary disarmament' *** 'We know what it is when a country intends to disarm and comes to use the instrument of inspectors to disarm. That is not happening.' ***

'They continue to deceive, deny, and obstruct. We still want to know: Where is the 26,000 liters of anthrax? Where is the VX? Where are the missiles?' ***

*** Iraq was also not cooperating in arranging private U.N. interviews with Iraqi scientists, a violation of the last U.N. resolution *** The only three scientists interviewed privately by inspectors were recommended by the Iraqis, but not a single scientist recommended by U.N. inspectors had agreed to a private interview ***
So out of 83 scientists, not one has come forward for a private interview. There are no mysteries or surprises in this 'shocking' turn of events. This result was completely foreseeable. Iraq's scientists are operating under a formal declaration of a Death Sentence for high treason if they ever seriously considered cooperation. Death sentences in Iraq, however, are not carried out by lethal injection. Iraqi scientists live in fear for the safety of their families, and especially their children. Wives, children, brothers, mothers, sisters, father and cousins -- all would be tortured to death by Saddam -- in the most brutal fashion imaginable.

Readers of this site already know that Saddam is playing a game of hide and seek with the U.N. inspectors. It is blatant and reckless conduct by a ruthless dictator who must surely know and understand his game playing will end in disaster for Iraq.

More to come ...

Posted by Douglas Oliver on February 20, 2003 at 9:10 PM
LANGUAGE TRANSLATORS:
You may translate between English and five other languages:
French, German, Italian, Spanish and Portugese.
Simply copy the article or URL and go to either of these sites: